Estes Rockets
Regular price
$76.99
Sale price
$76.99
Unit price
per
Sale
Sold out
Taller than the Statue of Liberty, NASA SLS has got more thrust than the mighty Saturn V.  The NASA SLS (Space Launch System) is ready to return humanity to the moon... and beyond!
The NASA SLS uses proven rocket technology and existing resources. It includes modified Space Shuttle main engines for its core stage and Space Shuttle-derived solid rockets for the boosters.
The NASA SLS Block1 will generate 8.8 million pounds of thrust at lift off and has enough power to carry the Orion crew, an upper stage booster, and four astronauts to lunar orbit and back.

SLS and Orion are key components of Project Artemis, the NASA program to land the first woman and the next man on the moon within the next five years.
Designed as a modular systems of components and payloads , NASA SLS model rocket can fulfil multiple roles in the course of Project Artemis.
Subsequent Block 1B and Block 2 versions of the NASA SLS will launch landers and cargo to the moon, and later to Mars.

The Estes 1:200 scale replica of this rocket portrays the Project Artemis Block 1 configuration. This is the first in the proposed series of heavy lift launch vehicles. This advanced rocket model represents America's next generation of deep space rockets. It comes pre-assembled and pre-finished with realistic markings and features, making it launch-ready.

Estes NASA SLS model rocket
Launching your NASA SLS couldn't be easier. Prepare your rocket for flight by attaching the included transparent fins. Then load with an Estes C6-3 engine. You can expect spectacular launches up to 350 feet. Your rocket will have a graceful return to Earth under a colorful 15-inch parachute.
This rocket looks great whether counting down on the launch pad or displayed on your shelf. Between launches, show off your Estes NASA SLS with its own custom clear fins that can double as a display stand.
Technical Specifications
| | |
| --- | --- |
| Recommended Engines | C5-3, C6-3 |
| Projected Max Altitude | 350 ft. (107 m) |
| Recovery System | 15 in. (38.1 cm) Parachute |
| Length | 19.4 in. (49.3 cm) |
| Diameter | 1.64 in. (42 mm) |
| Estimated Weight | 4.2 oz. (119.1 g) |
| Estimated Assembly Time | 15 Minutes |
| Fin Materials | Plastic |
| Decal Type | N/A |
| Launch System | Porta-Pad II and Electron Beam Launch Controller |
| Launch Rod Size | 1/8" |
| Age Recommendation | Estes model rocketry is recommended for boys and girls ages 10+ with adult supervision for those under 12, and rocketeers of all ages. |
Share
View full details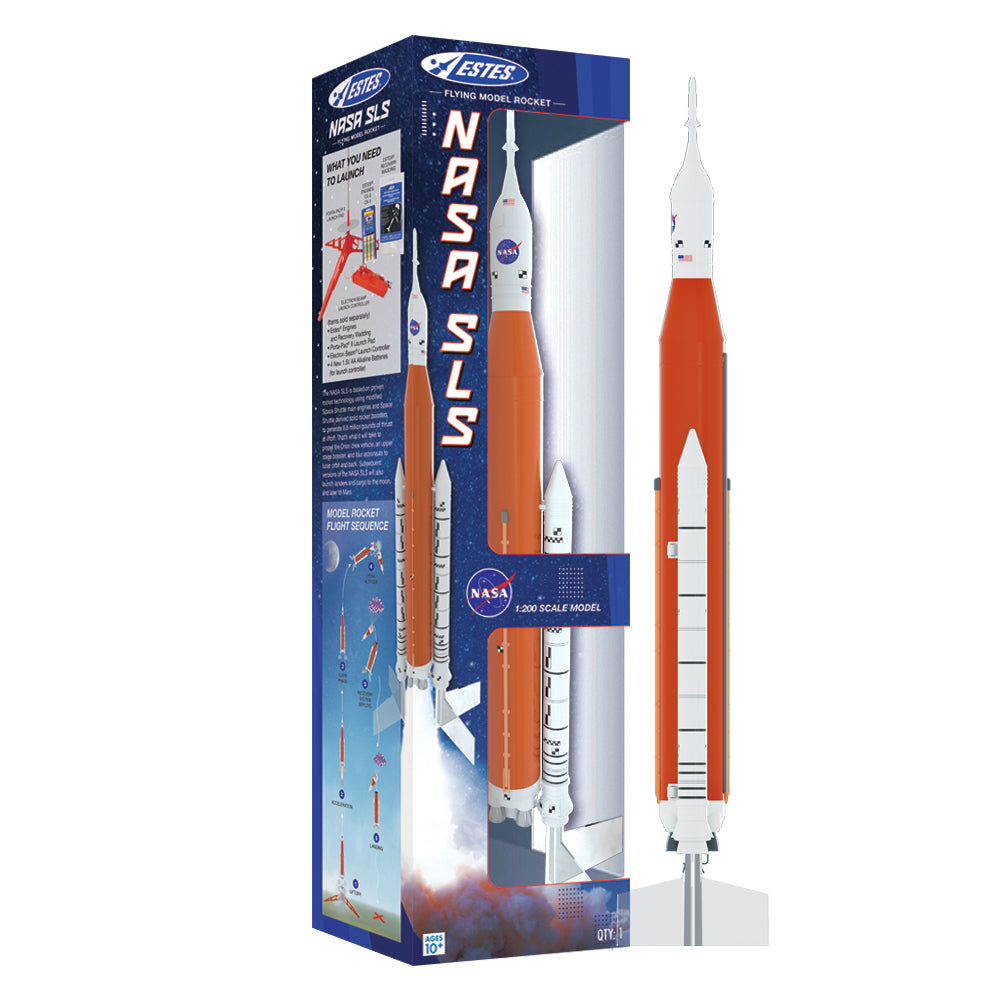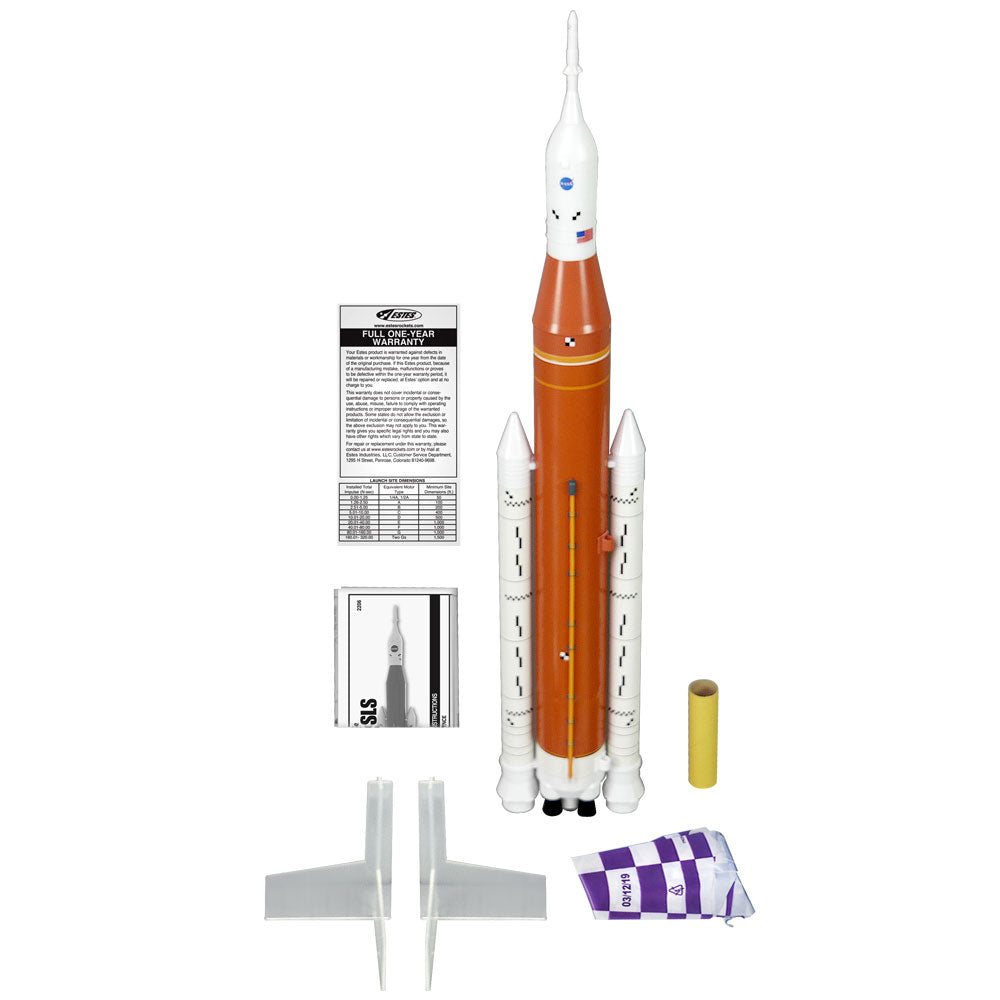 Live, Online Training and 1:1 Support!
Estes Education has been a leader in STEM education for over 60 years. We know that STEM is a vital interdisciplinary topic that requires hands-on and inclusive learning. Explore these supporting materials to take learning to new heights!
Should you have need, you can meet with a member of Education team for FREE, 1:1 online support to learn rocketry basics, how to apply our curriculum, and discover unique teaching strategies. Our team is eager to answer your questions!
Get Support Now!
Learn About Model Rocket Safety!
Not sure how to safely launch a rocket with your group? Head over to our dedicated Safety instructions page for videos, support, and more!
How to Fly Safely!